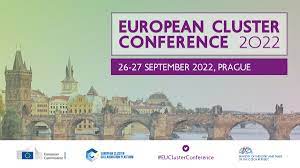 European Cluster Conference
The European Cluster Conference brings together cluster actors to discuss and share current and future priorities for cluster policies and developments to support sustainable industry development and interregional cooperation, and to build connections between Europe's value chains, clusters and ecosystems.
The European Cluster Conference is all about collaboration: bringing together stakeholders, policymakers, cluster managers, researchers, entrepreneurs and the public to build connections and ignite new ideas for investments.
The European Cluster Conference is a bi-yearly event. Since 2008, it focuses on a different theme enabling participants to discuss different priorities.
Register now for the European Cluster Conference 2022
The Czech Ministry for Industry and Trade under the Czech Presidency of the Council of the EU and the European Commission are pleased to announce the organisation of the 8th edition of the European Cluster Conference on 26 and 27 September 2022 in Prague. Organised with the support of the European Cluster Collaboration Platform, this event is a unique opportunity as it brings together cluster policy makers, cluster managers, practitioners and other stakeholders.
After a fully virtual edition in 2020, this year edition is the opportunity for the cluster community to meet again physically in Prague. Do not miss this opportunity to reconnect with your peers and get to know new clusters or cluster managers in person.
More information and programme are available on the European Cluster Conference's website: www.europeanclusterconference.eu.
Side Events
Meeting of the European Cluster Associations and Networks. This meeting will gather, for the first time, 70+ representatives from European cluster associations and networks, and organisations across Europe to exchange experiences and collect ideas on how EU cluster initiatives can best support the EU actions toward a more green, more digital and more resilient economy. This event will take place on 26 September (9:00 to 13:00 CEST). Click here to find out more.
Forum of the European Cluster Partnerships and Euroclusters. This Forum will gather 100+ representatives from European clusters, namely those who have been awarded grants by the EU programmes supporting European Cluster Partnerships as well as Euroclusters and those interested in the participation and collaboration with the existing European Cluster Partnerships and future Euroclusters in order to consolidate their work and enhance access to resources. This event will take place on 27 September (14:00 to 17:00 CEST) and is upon invitation only. More information.
ECCP matchmaking event. This matchmaking event offers you a dedicated framework to find potential business partners at all stages of the supply chain. If you are looking for future project partners or specific products or services for your organisation, this is the place for you. The event will take place physically on 26 September 2022, (9:00 to 13:00 CEST) where participants will meet in a dedicated room of the conference venue. Click here to find out more.
MORE: https://clustercollaboration.eu/events/organised-by-eccp/european-cluster-conference